Les pensées
Artist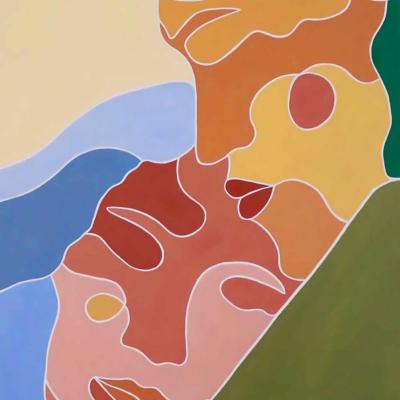 Léa Mongiat
Les pensées (2023)
Acrylic on canvas
Dimensions :

35 x 27 cm

Framing :

No

Guarantee :


COA
Aditional Information
| | |
| --- | --- |
| Period | Contemporary (1945-today) |
Artist Biography
Léa Mongiat is a painter from Le Mans, she lives and works in Paris. From a very young age, Léa drew and painted, finding great freedom through this means of expression. She then decided to study drawing and painting in Nantes.
She also studied, for several years, perfume and theater then devoted herself entirely to painting since 2020. She exhibits regularly in Paris and Le Mans.
Léa draws her inspiration from her childhood memories, her family, her past and present relationships, her vision of herself and the vision of women in general. She finds in them an infinite palette of possibilities: their complexity, their strength, their softness, their fragility… their singularity.
Contemporary artists are also a great source of inspiration both through their lives and through their works like Niki de Saint Phalle, Inès Longevial, Sona Asemani…
Léa essentially paints portraits of women, very colorful and "cut" into several small parts. The different parts represent the different facets of these women, the different roles in their lives... In addition, the cutting lines are not straight, the colors are not completely uniform... Like a map to be deciphered, these portraits expose the complexity of wife.
Ask a question or comment
You must be logged in to post a question or a comment.
Click here to log in